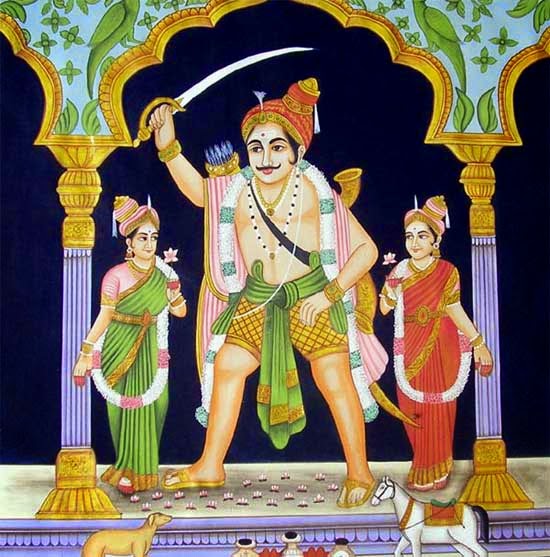 In Tamil Nadu people worship warrior Madurai Veeran. He is a folklore legend who was turned into deity. His good looks and skill in various arts were acknowledged during the rule of Pandyan king in the 17th century. He is one of the earliest examples of honour killing. In folklore of the region and learned to had brought back to life after death. He retires thereafter to a cave that lies beneath today's Meenakshlamman Temple.
Honour killing is ancient practice in Tamil society
The folklore of local deity Madurai Veeran talks about honour killing, which is still practiced in Tamil society since ancient days. He was killed by Thirumalai Nayakar, ruler of Madurai between 1623 and 1659 A.D. and who failed in love with one of his members in the royal family.
The story in Tamil folklore goes such that a female ballet dancer named Vellaiyammal in the royal family of the Pandyan king had fallen in love with Madurai Veeran and asked him to teach tenets of dancing (Natya Shastra).
Veeran was ordered by the king to resist robbers who were terrorizing the people in Madurai. He and Vellaiyammal went into the den of thieves in perfect disguise and with the help of hidden soldiers captured them. He brings back the plundered loot.
His love for a woman of higher caste was a question of hierarchy during those days. More to this, the king too was in love with the court dancer. Learning the closeness of Veeran with Vellaiyammal he became furious and ordered for his death. Veeran's limbs were chopped off at the gallows.
Braveness of Maurai Veeran
Madurai Veeran was born in Arundithiayar family, which was a lower caste community (Scheduled Caste community). Thirumalai Nayakar (Thirumalai Nayak) made him commander of his military being impressed to his braveness and skills. In the era Madurai was troubled by bandits and the king sends Veeran to resist. He was ordered to help in curbing menace of robber gang. In the royal palace he meets court dancer Vellaiyamma and was impressed with her skills. Both became a perfect disguise to gain entry into the core place of the thieves, the Azhagar Malai den. They managed to capture almost all the robbers with the help of hidden solders and recovered plundered loot.
Death of Madurai Veeran and myth thereafter
Death of Madurai Veeran came because he was from a lower caste and loved a woman of higher caste. Thirumalai Nayakar built a temple after killing him and spread a myth that the erection is in fear of repercussions for bringing to death such man.
In last 500 years there had been thousands of such victims of honour killings. In villages across Tamil Nadu people worship small sand mounds or structures of at least 2,000 female deities who are little known though. The victims included people of dominant castes too.
It is a general believe in the villages that ghost of the victims usually comes back to take revenge and to overcome such aftermath people installs stone erections and prays to the dead ones like deity so that no ill fortune is caused in life.
Worship of Madurai Veeran
People from most parts of the world, irrespective of caste and other social factors, worship the hero as a god at the Meenakshi Amman temple.
Birth and life of Madurai Veeran
Stories by oral tradition reveals Madurai Veeran was born in a family of North Indian king who left him in the woods after the birth being considered as unlucky baby having potentiality of bringing misfortune to the kingdom.
The baby Veeran was found by a cobbler in the woods and raised him. His bravery and skills earned him chance to enter the military of Nayak dynasty as commander. He was ordered to eradicate robbers from Madurai. Being successful in resisting the gang his long time enemies convinced King Thirumalai Nayakar that he too was one of the members of robber gang.
As a punishment his arm and leg were chopped off. He died out of pain.
His consorts were Bommi and Vellaiyammal. Both committed suicide after finding the king chopped off his arm and leg and he died in pain.
Stories also narrate that later the King realized Veeran was innocent. He regretted his order of chopping off arm and leg.
Official record of Madurai Veeran
There is no official record to prove Madurai Veeran existed. He is only found in the folklore of ancient Tamilakam, those people who enervated the warriors and stones which were constructed in memory of such brave people.
Over centuries the Tamil people had admired Veeran and worshipped him. It is believed when prayed for justice to Veeran if falsely accused of any crime, the perpetrator dies in fatal accident or else house of the perpetrator will be burnt in fire accident.
Other notable lower caste folklore deities
There are several dalits or lower-caste deities in the region are two important ones are Chinnathambi and Kathavarayan apart from Veeran. Chinnathambi belonged to same Arunthathiar community to which Veeran belonged while Kathavarayan was a Pulayar. In another folklore a Brahmin deity named Muthupattan has been mentioned as he married two women from the Arunthathiar community.
Scholars points out the cult of worshipping dead is 2,000 years old caste Hindus began worshipping for two main reasons. One is for the popularity of deities and the other is perhaps due to fear of being haunted by their spirits.
Madurai Veeran in movies
In 1939 Tamil director T. P. Rajalakshmi made a film on Madurai Veeran. This was the first time the folkore was picturized on screen. The star casts were V. A. Chellappa, T. P. Rajalakshmi, M. M. Chidhambaranathan, V. L. Mani, and P. R. Mangalam.
In 1956 another Tamil film based on the folklore of Madurai Veeran was directed by Dasari Yoganand starring M. G. Ramachandran, Bhanumathi Ramakrishna and Padmini.
Lately, in 2018 director P. G. Muthaiah made a good attempt to make a film on Madurai Veeran with all the modern techniques of movie making. The star casts were Gajaraj, Mime Gopi, Samuthirakani.
The city Madurai
Madurai is one of the important cities in Tamil Nadu and is a cultural capital of the state. The earliest human settlement dates back to the 3rd century BCE and has been ruled by many rulers at different times including Pandyas, Cholas, Madurai Sultanate, Vijayanagar Empire, Madurai Nayaks and Camatic Kingdom. Among historical monuments Meenakshi Amman Temple and Tirumalai Nayak Palace are the most important ones.
Over the time Madurai has been referred with various names like Koodai, Malligai Maanagar, Thirualavai and Naanmadakoodai. The word Madurai has been derived from Madhura, which in English means sweetness. It is believed Lord Shiva showered divine nectar on the city from his matted hair.
Ancient Greek historian Megasthenes visited the city during the 3rd century BCE and in his accounts he refers it as Methora. However, some scholars contradicts saying he visited Mathura.
During the Pandyan dynasty Madurai was the capital city.