Justice Rana Bhagwan Das : – Honourable Mr. Justice Rana Bhagwandas, is one of the highly respected names of the Pakistani judiciary system. He served Pakistani judiciary as a senior judge & former acting C.J.P (Chief justice of the Supreme Court of Pakistan). In 2007, he remained as acting Chief justice of Pakistan during the judicial crisis in Pakistan & he also became the acting C.J.P (Chief Justice of Pakistan) during 2005 & 2006 when the incumbent Chaudhry Iftikhar Muhammad went for foreign trip and that's when Rana Bhagwandas, became the 1st Hindu & the 2nd non-Muslim to serve as chief of the highest court in Pakistan.
In 1965 He joined the bar council & after practicing law for 2 years, in 1967 he joined the Pakistani Judicial System. Later on he became a session's judge, & afterwards he went on to become judge of the Sindh High Court. In 1994 Honorable justice Rana Bhagwandas was promoted to the Sindh High Court.
The appointment of Justice Rana Bhagwandas to the superior judiciary was challenged by a constitutional petition (no. 1069/1999) in 1999, against the Pakistani government and Judge Bhagwandas, The petition demanded to declare bench comprising of the Rana Bhagwandas' as unconstitutional because of Rana Bhagwandas' religion, further claiming that only Muslims can and should be appointed to the senior judiciary.
The petition was dismissed by a Full Bench, & the petitioner was condemned by other judges of High Court & by a substantial number of Lawyers as well. Bhagwandas is scheduled to retire in December 2007, after attaining the age of 65.
Jogendra Nath Mandal
: –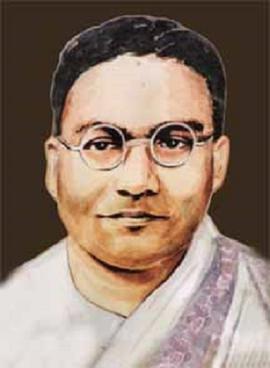 He was born in province of Bengal on 29th January 1904 during the British rule in India. He was well known freedom fighter of India. He died at the age of 64 in October 5, 1968.After the partition in 15 august, 1947 he became a temporary chairman and member of constituent assembly of Pakistan. He was one of the central and leading Founding Fathers of modern state of Pakistan, A leader of the Scheduled Castes, he fought for the cause of Pakistan along with the Muslim League. Following the partition of India on August 15, 1947 he agreed to serve as the new state's first Minister for Law and Labour – becoming the highest-ranking Hindu member of the government and He also became second minister of commonwealth and Kashmir affairs. He lived in port city of Karachi from 1947-1950 which became capital of Pakistan.
He was gave his resignation letter to liaquat ali khan and went Calcutta when liaquat ali Khan defended the proposal to establish Islam the official religion of the state.
Mandal entered the Indian politics in 1967 but failed to make any mark since he was one of the founding members of Pakistan. He was defeated in barasat constituency in 1967 India.
Deepak Perwani :- Deepak Perwani was born in 1973, Quetta, Pakistan. He is a renowned Pakistani fashion designer. He started his career at age of 20 in 1994.His brother Naveen Perwani is a snooker played. Deepak Perwani is one of the prominent members of the Hindu community of Sindh in Pakistan.
He started his career at age of 20 in 1994.
Deepak Perwani is internationally-acclaimed fashion guru who recently added his name to Guinness world record by creating the world's largest kurta.
The kurta was noted 101 feet tall, 59 feet 3 inches wide and weighs 800 kg.it took 800 yards of cotton blend fabric, 30 days and a team of 50 professional tailors to make it reality. Later it was used to create smaller kurtas which were donated to Edhi Foundation, a Pakistani NGO for children's homes.
Danish Kaneria :- Danish Prabha Shanker Kaneria popularly known as Danish Kaneria was born 16 December 1980 in Karachi, Pakistan. He is a Pakistani cricketer and 2nd Hindu player to have played for Pakistan in test matches after his cousin.Danish Kaneria got married in 2009 and has one son and a daughter.
He has continues the tradition leg spin bowlers in Pakistan. He possesses a very well-disguised googly.
He has played 61 test matches with 261 wickets to his bag though he did not get enough chance in one day career since Pakistan opted for all-rounders Shoaib Malik & Shahid Afridi or Saeed Ajmal instead.
He played 18 matches with 15 wickets to his bag with good economy rate of 4.79 runs per over.
He holds the record of most number of wickets by any Pakistani spin bowler and he is only 4th in overall list of most Test wickets for Pakistan just behind Imran Khan, Waqar Younis and Wasim Akram. He was given lifetime ban by England and Wales Cricket Board for being involved in spot fixing. He filed an appeal against the ban which was rejected in July, 2013.

Bhawani Shankar Chowdhry  :-
Bhawani Shankar Chowdhry was born 1 January 1959 to Marwari Maheshwari family in pakistan.he is an electronics engineer and ICT professional he did B.E(Electronic Engineering ) from MUET(Mehran University of Engineering and Technology), Jamshoro in 1983.he was appointed as Lecturer in MUET at the same time
Ministry of Science and Technology of Government of Pakistan awarded him Merit Scholarship to gain PhD from Southampton University, U.K (United Kingdom).In 1990 he completed his Doctorate degree from there.
To promote science and technology in 1991 he planned and organized "TECHNO-91" and he was appointed as chairmanship in Department of Electronics Engineering. He in chairmanship tenure established two new departments, Biomedical Engineering and Telecommunication Engineering. He is currently working as Dean of the Electronics, Electrical and Computer Engineering at MUET (Mehran University of Engineering and Technology).
Honours and awards
• Best Graduate Award recipient in B.E (Electronics), 1983.
• Chancellor's Gold Medal Recipient for securing 1st Position in B E (Electronics), 1983
• Merit Scholarship Recipient that is given by Ministry of Education, Pakistan for doing P.G (postgraduate studies) studies abroad, 1984.
• Chancellor's Shield Recipient for organising highly technological and scientific event TECHNO-91.
• Best Co-operation Award Recipient by Provincial Finance Minister for organising Grand Book Fair-1993.
• 30 March 1995 – Ministers shield Recipient for organising Academic Excellence Award 1994–1995.
• Guest Scientist/Associate Member ICTP (International Centre for Theoretical Physics), Trieste, ITALY (1996–2001).
• 24 May 1997 – Gold Medal Recipient for performing meritorious services to MUET, awarded by Speaker, National Assembly of Pakistan.
• July 2000 – Pride of Performance Award Recipient, MUET for his key role in organising Techo-99.
• 17 May 2002 – Millennium Gold Medal Recipient XIIth Star Awards South Asia Publication
• 29 June 2002 – National Best University Teacher Award Recipient BY Federal Minister of Education for meritorious services.
• 23 Sep 2002 – National Cultural Award-2002 Recipient in recognition of achievements in the field of Engineering Profession.
• 4 January 2003. – National IT Excellence Award 2002, awarded by Advisor Finance to PM.
• Feb 2003.KC Memorial Academy Award-2003 Recipient by Blue Angles Eden.
• Guest Scientist/Associate Member 2nd time award ICTP (International Centre for Theoretical Physics), Trieste, ITALY (2004–2009).
• 28 December 2004 – Pro-Chancellor MUET and Sindh Education Minister awarded Authors Shield
• 2005–2006.- MARQUIS Who's Who Scientist Award
• 25 June 2006 – The Millennium Life Time Award Recipient
• September 2007 – Postdoctoral Fellowship Award – University of Southampton
• September 2012 – Best Branch Counsellor Award Recipient by IEEE RDP Pakistan
Anil Dalpat : Anil Dalpat whose complete name is Anil Dalpat Sonavaria was born on September 20, 1963 in Karachi, Sind, Pakistan. His father Dalpat Sonawaria headed the club Pak Hindus, which won many local tournaments and he was first Hindu from Pakistan to pay test cricket at international level.
Anil Dalpat kept the wickets for Pakistan and was lower-order batsman. When wasim bari was injured he represented Pakistan in the early 1980s. He played 9 test matches with 25 dismissals and a high score of 52 against New Zealand in Pakistan.
He played 15 One day matches for Pakistan. He though had wider 1st-class cricket career and experience.He is cousin of first cousin Danish Kaneria.
Earlier he was coaching in Canada but now he is into business in U.K.