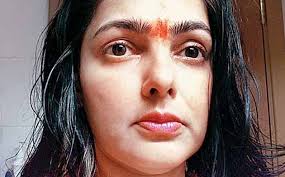 Mamta kulkarni neither converted nor accepted IslamThe bold actress of Bollywood has been part of many super hit Hindi movies like "Karan Arjun", "Ghatak" and "Baazi". The former Bollywood actress hit lime light in her acting days with her bold scenes and nudity.There is a smuggler named Vicky Goswami who was imprisoned for smuggling drugs in Dubai and he accepted Islam to come out of prison.Feisty actress of past was said to have been in relationship with Vicky Goswami from past many years though not authenticated. The actress was said to have accepted Islam to get married to her boyfriend. Many newspapers and even the sites like yahoo had this news published in their respective sites. She have been away from the public eye from last 10-12 years.But these news were refuted later by many media sources Infact she never changed her faith and opposite to it she has become more religious and more spiritual now.
Firstly the news was refuted by Bangladeshi newspaper on 22nd July saying that the news was fake and is not true by any means.as per the source she clearly mentioned that she had never accepted Islam and also refuted the news of her getting married to Vicky Goswami
The picture in the page clearly contradicts the news that claimed she had converted to islam. The "Tilak" on the forehead of 41 years old is part rituals performed by Hindus.The actress has been out of her filmy career for years, closing all her ties with Bollywood. She has been living in isolation since 12-13 years in an undisclosed location. 

Mamta Kulkarni Never accepted Islam infact she have turned into a spiritual Hindu
Mamta kulkarni have chosen a spiritual way to lead her life all these years and this chosen path has helped her find truth. As told by the actress she said "when saint valmiki can return to dharma and become saint after his rejection to loot & plunder why not she".
In her autobiography "The Autobiography of a Yogini" she says that now She is full-fledged "Yogini" and Mamta Kulkarni the glamorous actress inside her is died years ago.
Mamta Kulkarni becomes Yogini
Revealing the reason for quitting Bollywood in an interview to Bollywoodjournalist.com, she says, "Some are born for cause of world … some are born as cause for God, I fall for latter part. So, the call to go to my actual cause of my existence was inevitable (sic)."
she though took some photographs with her contemporaries in the interview but didn't reveal her whereabouts. She told sources that "all these years not even her family and relatives knew what I was doing and as this is demand of spiritual life." She devotes her 18 hours of 24 hours in spiritual way of life she further said that after these 18 hours of work she doesn't even get any time to hear or see anyone. She had not applied any make up or artificial stuff and haven't even looked at mirror since 12 years" She also refuted the news of her getting married to drug mafia Vicky Goswami by saying that she was neither married nor she have been married to anyone in past. She said that her penance got over & Vicky Goswami was released … she said that she loves him but even he is aware of the fact that her first love is almighty now.
Courtesy: hindustantimes, Autobiography Of An Yogini
Picture courtesy : AsansolNews- See more at: http://www.webcitation.org/mainframe.php#sthash.Z79oEqWC.dpuf