This is the beauty of Hinduism that we feel the language Sanskrit to be very much attached to each and every Hindus, and should be such as it is the root of Sanatana Dharma. Lately there has been more awareness to keep the language alive, an effort not to leave the language forgotten and extinct.
Internet is playing an important role in making Sanskrit as one of the spoken ancient languages in our frequent communications when it comes the learning and knowing of religion Hinduism. But without a Sanskrit school such things cannot be achieved and it has become the responsibilities of all the Hindus from across the world to come forward and save such education institutions, whether in India or any other country.
Crowdfunding – Save Sanskrit School
Crowdfunding has lately become a tool to help preserve the ancient language that is more than three millennia old. Earlier this year, on March 17, about one thousand people, probably all of them Hindus, from across the globe extended their monetary hand to Karnataka-based Sri Acharya Paathashaala in Melukote. Over Rs 26 lakh was collected through the strategy to support the school financially where about twenty students study under leaking roofs and hot asbestos.
Also called as Anand Ashram, the school is just about a decade old in Melukote, the land which is known as Nalanda of the south for centuries.
Nalanda was a large Buddhist monastery and a great learning centre from 5th century CE to 12th century CE. It is located about 95 kilometers southeast of Patna in Bihar and currently is a UNESCO World Heritage Site. During its peak the school attracted students from Central Asia, Korea, China and Tibel. It had library equipped with hundreds of thousands of books. The campus was destroyed in 1200 century CE by Mamluk Dynasty of the Delhi Sultanate under Bakhtiyar Khaiji.
According to secretary of the school, Padmini, the infrastructure is weak and students are studying under such pathetic situation under a thatched roof that leaks during rains.
Padmini added that the asbestos sheet makes classroom hot and unbearable. The children studying here get blisters due to high temperature inside.
One of the Melukote residents said the children studying at Anand Ashram at times do not have enough food to eat. Usually crisis of fund lead to shortage of food stocking. Even the teachers, curtailed to just five now, are unpaid for about two years.
Pathetic phase for Sanskrit
Sanskrit language is currently in pathetic phase with just few centres in India to teach students and one such is Melukote, where it is not just a language, but a way of life.
In 18th century the Melukote was plundered and destroyed under Tipu Sultan rule and it was hard during the era to preserve the ancient traditions. People in this hilltop town are educated in Sanskrit and most of them are well-versed in the Upanishads, the Vedas and other ancient texts.
150 km away from Bengaluru, the Melukote earlier housed about twenty Sanskrit teaching schools where students imparted knowledge of geography, math and other subjects in the ancient language, but over the period of past one decade crisis of funds have led to the shutting down of the institutions.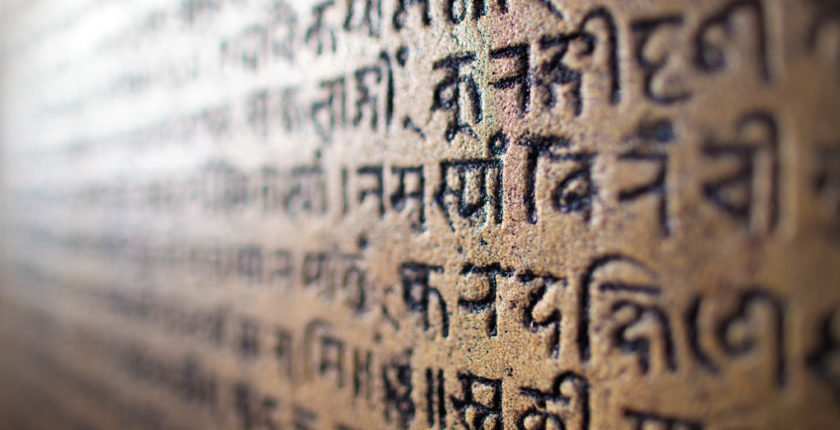 In 2010 Sri Acharya Paathashaal founded Paramahamsa Ithyadi Satagopa Ramanuja Jeeyar, which is a populra seer from Srivilliputtur. He called it as Anand Ashram (school of happiness) believing this would be a happy place for children who will be interested in studying Sanskrit.
Bangalore University has recognized the school and affiliation to the Karnataka Sanskrit University is in process.
According to Vice-Chancellor of Karnataka Sanskrit University, Prof. Padma Shekar, Geeta, Upanishads, Vedas, Bhagavata, Sri Bhashya and other ancient texts are taught at the school where only twenty students are left to impart the knowledge.
Prof. Shekar added, "We have received their application for affiliation. Accordingly, our officials have visited the school and inspected the infrastructure. Based on the report, we will provide support and permission to run classes from this academic year."
How Sanskrit can Survive
Even though Bengaluru is famously called as India's information technology capital, the city has failed to do justice to the country's oldest, ancient language. Melukote is not far from the Karnataka's capital where the Sanskrit tradition is struggling to survive. It is forced to look outwards in desperation for survival.
In the latest move the crowdfunding has helped in reviving couple of organizations in fueling the effort to save Sanskrit and its schools. The officials at Anand Ashram keeps the hope the new effort would bring together benefactors who are eager to help preserve the sanctuary of Sanskrit. The only thing required is to reach out to them.
Several MNCs and professionals have stepped in with their part of donations on Kettoa, a crowdfunding platform that has helped in raising Rs 26.5 lakh from about 1,000 donors from United States, United Kingdom, Middle East, Singapore and many more countries across the world.
Ketto CEO Varun Seth said, "Promotion and preservation of ancient Indian languages is of great importance and the need of the hour."
He added that it is great Ketto is able to raise funds for a Sanskrit school that was on the brink of closure. His platform is helping in protecting the Indian ancient language and strengthening the rool of Indian culture.
Chennai based data scientist Vijaya Raghavan said, "Initially, when a few of us decided to raise funds for the school, we found it quite difficult. If we had not crowdfunded, we would have raised just around Rs 10 lakh."
He is a disciple of the Jeeyar mutt and oversees the school too.