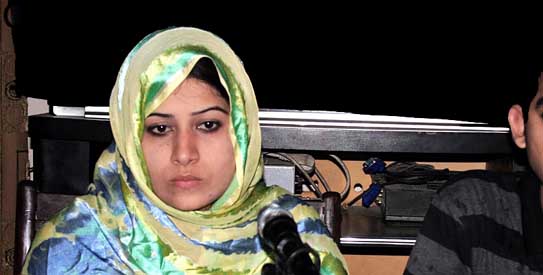 Rinkle Kumari – A Forgotten Story
Posted On July 7, 2013
24th of February 2012 recorded a black day for a girl,born in a community that rarely stands for anyone related to their community. Even if they do,they fail to make a mark in the international platform. Rinkle Kumari lost everything- her freedom, her self-respect, and her dignity only because she was Hindu i.e. a community with no voice. to add to her problems, she was born in a land which is well known for their atrocities toward Hindus.
The worst days of her life which were to come, started on this very day. She was found missing from her home without her footwear, clothes and money. The next information her family got was when MNA Mian Abdul Haq intimated them about her getting married to a Muslim boy named Naveed Shah. As per his words, she had converted to Islam, and her new name was Faryal.
This was just the beginning of injustice not only by a person, or by a community, but also by government of a country.
She was produced to court, where she openly spoke about her being kidnapped and how she was forcefully converted. Who would have listened to her voice? She pleaded for help from the judge, but instead, he remanded her to police custody and set a new date for a hearing. In police custody another hell awaited for her. She was tortured and threatened to the extent, that to save her family she thought of sacrificing her life.
Next hearing saw even more immmoral and unethical decisions, the hearing was pushed up from 11am to 8am in the morning without notice to Rinkle's family, and in this manner her family and other Hindus demanding justice were kept out of courtroom.
The hellish decision which came in favour of the Muslim boy, was equally supported by Mian Mithhoo a senior leader of Pakistan Peoples' Party. Rinkle was judged to have married and converted to Islam of her own will as per courts hearing
Fairly normal in Pakistan, with the weakest section of the society Mian Mithhoo and his associates crowded the streets in celebration. They later held press conference to their religious victory over Hindus.
12th march 2012, on petition by Pakistan Hindu Council, the supreme court of Pakistan intervened and combined the case of rinkle kumari with two similar cases for kidnapping – forced conversion along with Dr Lata -29 years and Asha Kumari a teenager.
On first hearing of Supreme Court, Rinkle kumari cried her heart out and said she would rather die than be placed back in the shelter. She, with tears streaming said she wanted to go back to her parents. The deaf ears of court were unable to hear her voice since she was a Hindu, i.e. a community whose voice remains unheard even in the court rooms. Her request along with Dr Lata was dropped and they both were sent to a governmental women shelter to decide over their future for 3 weeks without any pressure.
April 18th saw the decision by Supreme Court of Pakistan, where all three- along with Rinkle kumari- were old enough to decide their fate, and the decision of Supreme Court didn't seem to concern the high court decision with again giving decision in favour of the Muslim boy. The girl's forceful conversion and kidnapping did not bother court's decision. The beatings, torture , threats of harming/killing them and their family was kept aside to give happy moments to the devils in the court room. The decision was recorded behind the closed doors, not in open court. This was sole decision governing proof in the devils court without showing their credentials to the world